The Southern Adventure Hub, located in the koala reservation Douglas Scrub, is Venture's second custom designed Adventure Based Learning (ABL) facility. As ABL and experiential program specialists, Venture were ideally situated to design and maintain an Adventure Hub that provides novel and engaging ways to improve team performance, wellbeing, communication and conflict resolution.
Since its initial creation the Adventure Hub has worked with corporate clients, schools and youth groups and now additionally functions as a tourist attraction under Adventure Hubs SA. Its beginnings as an Adventure Based Learning facility are still there however and it is a popular location in the Fleurieu Peninsula for team building days for both young and old participants alike.
Adventure Based Learning is a form of experiential education, learning by doing, that challenges people's homeostasis through a blend of perceived emotional and other types of risk. As such each element of the Adventure Hub was created with the ideal of producing combinations of emotional strengthening, physical outreach, team building and leadership dynamics, and 'challenge through choice'.
The Key Focus In Our Elements
High Ropes Challenge Course
The High Ropes Challenge Course is set high amongst the local trees, combining a mix of tree posts and standalone connections. This High Ropes Course consists of 12 different connected elements, with participants locking on to safety ropes from the tower and 'stepping off' onto the course. Each element is different in both structure, physical difficulty, and purpose.
Each segment requires the participant to engage a different set of skills, whether it be balancing, speed, confidence or problem solving, ensuring both their mind and their body get a full work out. The step from the tower is often considered the most daunting, designed as open lines that allow the participant to fully confront the task they are undertaking and the nerve they will need to complete it. Goal focus on the Challenge Course is high, but for those looking for more team focused activities, Venture had programs and additional rope set ups that can be incorporated into the standard course layout.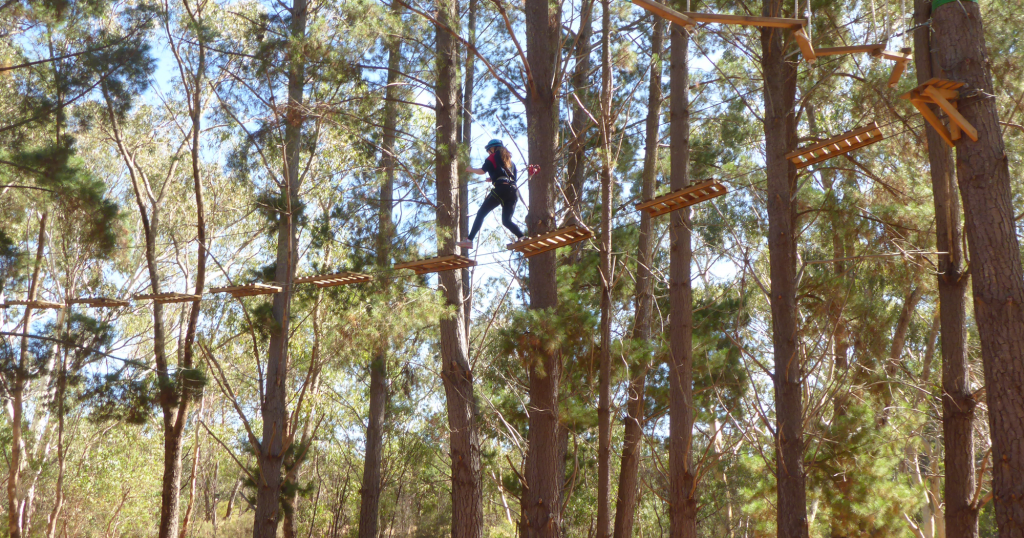 The 9-Metre 3-Sided Rock Climbing Tower
The 9-metre Rock Climbing is a testament to rock climbing and ingenuity. Consisting of 3 rock climbing sides, the towers difficulty rating increases from beginners to experts depending on which wall is being climbed and allows people of all skill and fitness levels a chance to participate. Participants can work together to climb the wall, with team members manning the belaying rope. Additionally, Venture can set up a range of different challenges, whether it is speed climbing challenges, team challenges, or working together to help each other conquer fears.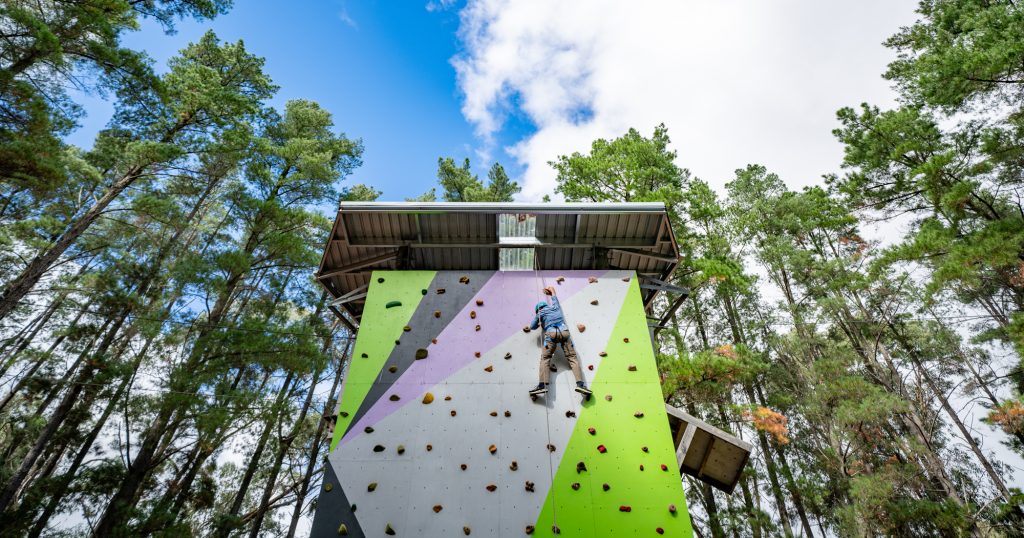 The Low Ropes Course
The Low Ropes Course is custom designed for each client and is an ideal way to begin a High Ropes session. Not only can low ropes be used to begin initial training in how to work with ropes, Venture has several activities on the low ropes that are designed as ice breakers, getting team members working together and building their confidence towards tackling our more high-end experiences. The Low Ropes can also be incorporated into other on-ground problem solving activities for companies who wish to engage in low key adventure activities.
The Double 'Leap of Faith' Trapeze
The Double 'Leap of Faith' Trapeze is a great way to end a training session, when confidence is high and participants are ready to hit those peak goals. Incorporating both fun, leadership and teamwork the Trapeze consists of two jumping platforms and belaying ropes where the 'jumper' is assisted and supported by their team members. Participants stand out on a platform and must gather the courage and resolve to try and 'leap' to reach the trapeze pole.
Venture recommends this activity as a end of session activity as it takes a lot of faith in oneself and in ones team, something which Venture works hard to ensure through the early parts of the day.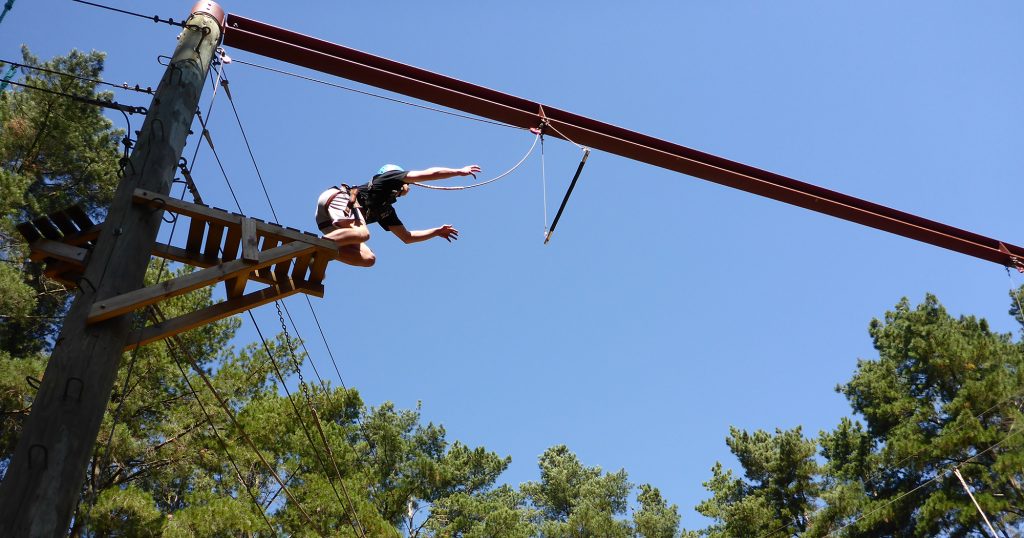 Venture Corporate Recharge runs Adventure Based Learning programs year-round for Schools, Sports Groups and other Associations. To book a custom experience at The Mount Lofty Adventure Hub please visit our website on venture.net.au or call us on 08 8165 2033.